---
Douglas Fairbanks Jr. played many different types of characters in his diverse films but all of them shared some similarities. These being an intriguing combinatino of the courtly gentleman of the 19th century with the emerging unsettled 20th century man, unsure of his place in a world faced with the Great Depression, totalitarian despots and two World Wars.

In the movie A Woman of Affairs (1928), starring Garbo and Gilbert, a young and stunningly handsome Douglas practically steals the picture from the two stars with his portrayal of Garbo's neurotic brother - a character straight out of a Fitzgerald novel - whose almost homoerotic attachment to Garbo's suicidal admirer leads him to delve into liquor for solace. It's an amazing portrayal, so ahead of its time that Fairbanks Jr. seems to be acting in a different film from the other actors and yet he is the perfect picture of decadence in the roaring Twenties. What is interesting about Fairbanks Jr.'s performance is the heart-wrenching sensitivity with which he plays this character. It is not the usual comic portrayal of a drunk that was predominant in movies from this time but instead is a characterization filled with pain and loneliness.

Douglas plays another man torn between two lovers in Our Modern Maidens (1928). As the film begins he is the beau of a sparkling flapper played by Joan Crawford, a woman who has high ambitions for her fiancee. As the film progresses he becomes involved with one of Joan's plain girlfriends, a sweet girl who is head over heels in love with him. Although the story is the stuff from dime store novels Douglas gives a fine performance showing subtly the change of heart that his character develops. Of course the most interesting part of the movie is watching the beautiful, young Douglas and the beautiful, young Joan onscreen together.


Outward Bound (1930) I think is Doug's first talkie and for an early talkie it's actually quite an atmospheric little movie. Leslie Howard costars in this tale of several dead souls who board a ship and don't realize that they're dead.

One of the most famous films that Fairbanks Jr. appeared in was 1931's Little Ceasar. This film contains one of Doug's best performances, as a gigolo who becomes caught up in the criminal underworld, much to his own abhorrence. The film was one of the classic gangster pictures from the 1930's.

Scarlet Dawn (1932) is one of my favorite Fairbanks Jr. films. It is the story of a Russian aristocrat who ends up on the run after the Bolshevik Revolution with his former house servant. It's a great love story with gorgeous costumes, and great acting. It gives Douglas the chance to be both haughty (at the beginning of the movie) and finally humbled by love.

Love is a Racket (1932) review to be added shortly

It's Tough to be Famous (1932) review to be added shortly

Parachute Jumper (1932) review to be added shortly

The Narrow Corner (1932) is based on an Somerset Maugham book. It's a story of a young man, played by Doug, who is hiding from his past by hiding out in the Far East. Doug's character is shy, dark, and mysterious - the kind of role he's best in. His character learns to face his demons and understand the courage he has within himself. It's an excellent character study and Doug looks gloriously handsome in it - he has a moustache (which is my favorite look of his) and clothes that show off his physique (and he gets to appear without any shirt at all for a large part of the movie!) A definite mustsee for any fan. Pretty good special effects too for some of the storm on the sea sequences.

Captured (1932) review to be added shortly
The Life of Jimmy Dolan(1932) review to be added shortly

Morning Glory (1933), starring a young Katherine Hepburn, is primarily a showcase for Hepburn's talents. But, Fairbanks still gives a memorable job of developing a rather small role as a cynical reporter whose outlook on life is transformed after he falls in love with Hepburn's kooky actress. For the most part he gets to be humorous, flirtatious, handsome and dashing (all attributes which seem to come naturally to this charmer!).

Hollywood during the Depression mostly cranked out light-hearted musicals and comedies, cotton candy for the masses during hard times. One interesting exception is Success At Any Price (1934), a film a decade ahead of its time in showing the personal corruption that comes from capitalist overdrive in the corporate world. This film is unceasingly depressing in its negative survey of human nature. Needless to say the dark screenplay brings out the best in Fairbanks Jr.'s acting talents and he makes the most of playing this wounded man who ends up with nothing but unhappiness. I'm sure that it was not a box office smash but it's one of Douglas' finest performances.

His finest screen achievement though, by far, is with the historical drama Catherine the Great (1934). He is absolutely riveting in this film. For me his performance is almost difficult to describe, it transcends a verbal description. Josef von Sternberg's film, The Scarlet Empress about the same subject matter, which, incidentally, came out in the same year, portrays the character of Peter as a cliche - ugly, stupid, and crazy in the most primitive way. Douglas' performance is absolutely the opposite. He is a beautiful fop, straight out of a Dostoyevsky novel, simultaneously cruel and kind, filled with self-loathing and vanity, mad in an operatic fashion, in a way that evokes sympathy, not derision. Thus, Catherine the Great becomes something of a tragic love story. It is one of those mysterious screen creations which even after dozens of viewings is still something of an enigma.

Mimi (1935), based on the opera La Boheme, followed and having just recently seen it I have to say that it's one of my favorites not only because of the flattering mid-19th century wardrobe on Doug but his performance carries over the energy and nuances that gave such life to his performance in Catherine. He can be charming and humorous but also brooding and sensitive at the same time. The story is interesting, the other actors are all quite excellent and the filmwork has the same hazy, glittering quality as other early 30's period pieces. Plus Douglas looks absolutely fantastic!

The character of Rupert in The Prisoner of Zenda (1938) is the only villain that I have ever seen Douglas portray and what a villain he is! He is a black clad, gorgeous, smiling, sexy villain in the best Hollywood tradition. What more need be said?

The late 1930's and early 1940's was the era when Douglas Fairbanks Jr.'s screen persona reached its quintessence. He alternately played adventurers, primarily British imperialists in Anglophile productions (this was a result of the start of WWII and Doug's support of the British cause against Germany) and dashing, tuxedo wearing, champagne swilling heartbreakers in effervescent romantic comedies.

Of the comedies, The Rage of Paris (1938) costarring the charming Danielle Darrieux is the best although Joy of Living (1938) with Irene Dunne is a close second. I also enjoy watching Having A Wonderful Time (1938) with Ginger Rogers although it is not the greatest screwball comedy, but Doug is so adorable, funny and handsome in it that the plot hardly matters.

The film Angels Over Broadway (1940) does not really fit into the comedy category, it is more of a social commentary about life in New York City with a love story on the side. A radiant Rita Hayworth costars with Doug in this movie that almost has a film noir sensibility.

Of the tropical adventure stories The Sun Never Sets (1939) is very humorous, in particular is the scene where Doug's character is trying to avoid a pile of bureaucratic paperwork in his jungle office. Rulers of the Sea (1939) is a fairly basic adventure. I must admit that I have not yet seen the famous film Gunga Din (1939) so I have no comments about it as yet. Safari (1940) is another film that I have yet to see (and if anyone has a copy of it that they could tape for me I would most appreciate it!). Green Hell (1940) is probably my favorite of his tropical films, not that it is a great movie by any stretch of the imagination, it's just a perfect Sunday afternoon flick (of the White Cargo variety).

After WWII Douglas Fairbanks Jr. returned to the silver screen in roles that were more reminiscent of his father's screen specialties. The Fighting O'Flynn is a delightful, high spirited romp. That Lady in Ermine costarring Betty Grable is rather tacky (or should I say Technicolor) but Douglas is typically debonair, witty and handsome. Sinbad the Sailor with Maureen O'Hara is probably the best of Fairbanks Jr.'s postwar films (although I have not seen the popular film The Corsican Brothers) because it has that ideal combination of adventure, romance, beautiful costumes, great performances, humor -- all that great stuff that we love about the classic days of Hollywood!!!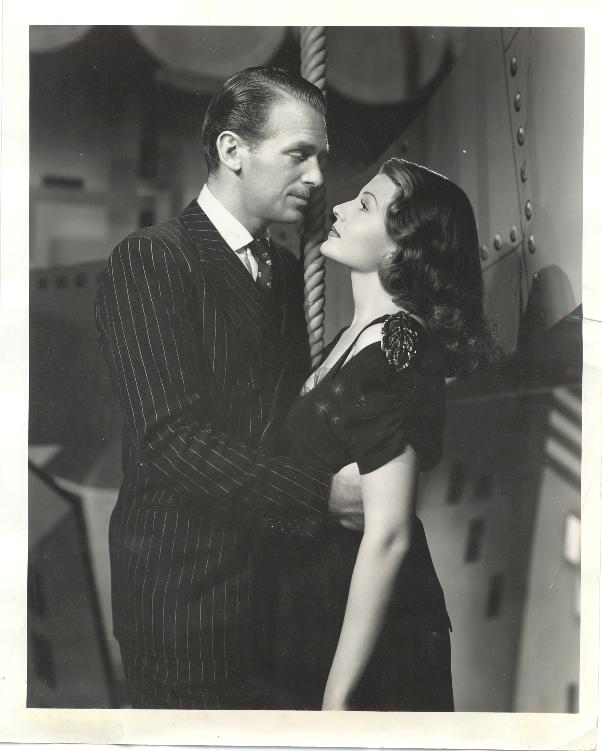 Return to Douglas Fairbanks Jr. Homepage