Welcome to Joan Crawford Heaven
---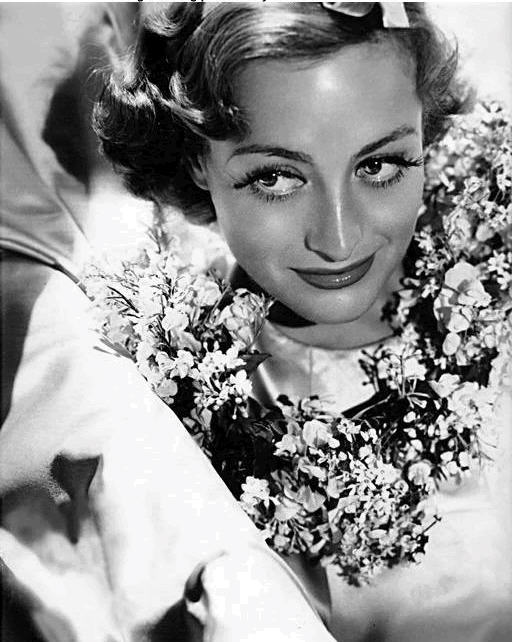 The Definition of a Movie Star
---
"Joan Crawford behaved like a star. Some do, some don't...You know, when Joan came on the set, somebody came on the set."
Rosalind Russell

"My first impression of Joan Crawford was of glamour. Glamour had nothing to do with aloofness or temperment, it had to do with friendliness, tremendous vitality and hard work, ambition and constant desire to improve her work, and to get knowledgeable about things that were
important to the work." James Stewart

"Joan was a star in every sense of the word. She didn't remind you of it in any particular way. You just knew it. And you didn't think any less of her for it." Henry Fonda

"Joan Crawford, as much as I dislike the lady, is a star." Humphrey Bogart

"She remains an electric presence even in some of her very unsatisfactory movies. Everything about her shone - her hair, her lips, her handsome hands, her graceful strong body and legs, her elegant feet. Everything looked as though it had sprung from nowhere, shining. Perhaps we know too much nowadays about what it takes to make a star and what a price is paid. All I know is that Joan Crawford shone. That's why they called her a star." Anna Raeburn
---
Latest News!!

6/11/02 Joan Crawford will be the Star of the Month on Turner Classic Movies in August so they'll be playing dozens of her films. Be sure to catch them all! Check out the TCM link below to look up which movies will air.

See what Joan Crawford films are on cable this month at Joan Crawford TV-NOW Schedule. You can search at TCM's site for what Crawford films they'll be playing in the next few months (and maybe request a Crawford film that you'd like to see on Turner Classic Movies: TCM Search. And check out my Joan on Video and DVD section of my page to see what Crawford movies are available to buy for your collection.
---
The best store that I have found to purchase pictures of Joan is a place in Hollywood called Cinema Collectors. They will answer your email inquiries or you can take a trip to Hollywood to shop there! The store is located just a few blocks south of Hollywood Boulevard (in the vicinity of Mann's Chinese Theater). They have six books filled with rare Joan pictures (and they're only $3.50 each for black and white glossies). As close as you can get to Joan Heaven!! Cinema Collectors also has a sister store in Las Vegas that's also worth visiting, it's near the Sahara and Stratosphere hotels. And if you go to New York or want to order their catalog Movie Star News is the place for classic cinema collectibles..
If you visit Hollywood....be sure to drive by Joan Crawford's home on 426 N. Bristol Avenue. This road is off of Sunset Boulevard on the west side of the 405 freeway. Marilyn Monroe's last home (and place of her death) at 12305 Fifth Helena Drive (off of Carmelina Street) is nearby but on the south side of Sunset Blvd.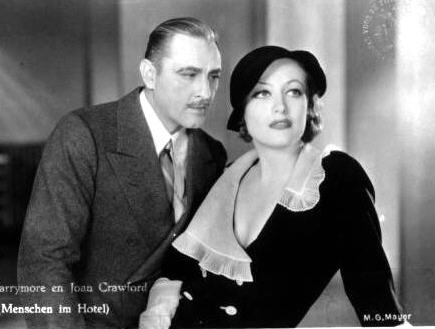 Another thing to check out on Hollywood Boulevard is the Fredericks of Hollywood lingerie museum. They have a petticoat that Joan wore in the movie Gorgeous Hussy. You can visit their site on the web at Fredericks Of Hollywood





---
Fans of Joan
---
Joan Crawford has always had a very special relationship with her fans. Joan would personally reply to fan letters and corresponded with some of her fans throughout her lifetime! Joan Crawford's fans are a legion of loyal, vocal, proud and tenacious admirers. Just checkout my guestbook and you'll see that Crawford fans are all over the globe - Germany, France, the U.K., Brazil, etc. We love our Joan!! As Crawford fans we also feel the need to justify our love of Joan to the unenlightened in the wake of Mommie Dearest. I'm sure that I'm not the only fan who has sat down a friend and made them watch a Joan Crawford movie so they would finally understand your devotion to all things Joan. Please email me if you have any comments about Joan's films, if you have a story to share about how Joan has influenced your life, etc. and I'll be more than happy to include your comments at Joan Crawford Heaven! Here is what some of Joan's fans have contributed:
| | | | |
| --- | --- | --- | --- |
| Gallery of Joan - My online gallery of Joan pictures | Whatever Happened to Baby Jane - my newest photo gallery for all you Baby Jane fans. Hope you enjoy it! | My Joan Pop Art - just some fun I've had colorizing some Joan pics I've found on Ebay. Enjoy! | Joan's Films - My comments on Joan's costars and which are Joan's "must see" films |
| Shopgirl Joan - An essay that I wrote about Joan's "shopgirl" persona in the movies | Reflections on Joan - Mark Toscani gives us his witty reflections on Ms. Crawford as the ultimate expression of the American movie star. | Mark also has contributed a lively and insightful essay about meeting Christina Crawford, Joan's daughter and author of Mommie Dearest, in 1998: Mark and Christina. If you wish to contact Mark his email is mtoscani@comcast.net | Sandy's List of Crawford Books |
---
Joan Crawford on the Web
| | | | | |
| --- | --- | --- | --- | --- |
| Joan Crawford Online - website claims to be the #1 source for all things Joan! A fantastically thorough site. | Whatever Happened to Baby Joan - a comprehensive fan site, definitely check this one out. | The Concluding Chapter of Joan Crawford - a new site focusing on Joan's post-Baby Jane years. | Divarama.com - a wonderful website all that is fab about Joan and Bette, you must check this one out! | Joan Illustrations - also includes Bette Davis illustrations and Joan and Bette movie reviews |
| Diva Darling Joan!! - includes gallery, quotes and curios. This site also has other acting divas, political divas, singing divas....divas galore!! | Club Crawford - a tribute to Joan's career, includes reviews of her movies | Silent Ladies' Joan Crawford Gallery - dozens of early Joan Crawford pictures. | Internet Movie Database - Joan Crawford - Joan's complete filmography and a short biography. | Bruce Hershenson's Vintage Movie Posters and Movie Poster Books - includes images of Joan movie posters - also great links to movie poster sources online and a trading page |
| Shameless Joan Crawford Fan Page | Mommie Dearest: Press coverage of Joan Crawford | Joan Crawford Tribute | Lynn's Page Devoted to Joan Crawford | Joan Crawford Essay with a nice picture |
| Silents Majority Featured Video-What's New - This incredible site has reviews of some of Joan's silent films that are available on video | Mommie Dearest - sights and sounds from the movie | Bright Lights Film Journal: Joan Crawford - The Scathing Last Word on the patron saint of drag 'n camp, The Queen of the Land of Cinema, La Divina Jona! | Joan Crawford Boulevard | Silver Screen Sirens and Sex Symbols - Doug Stickney's gorgeous photo gallery of classic film stars. |
| Images - In Focus: Joan Crawford | The "JOHNNY GUITAR" Society - yes, this movie has many devoted fans. | Classic Films: Great Women - Some beautiful pictures of Joan and some other "great women" as well. | Joan Crawford's Grave - a photo of sorts, of Joan's final resting place. | shillPages - this is a phenomenal site with amazing pictures of Joan and other actresses. |
---
Contemporaries
Here's where to find online information relating to Joan's
contemporaries, her co-stars and her competitors (not that anyone stood a chance against Joan the magnificent, but anyway...)

---
Joan's Successors
Actresses who I think have that special Crawfordesque combination of attitude and glamour
Crawfordness carries on

---
This page was last updated on June 11, 2002. It was created in March 1998. Please visit my other sites:
Kim Novak Lavender Blonde| Douglas Fairbanks Jr. Homepage | Baby Doll Carroll Baker | Stones Goddess Anita Pallenberg | English Rose Madeleine Carroll | Yul Brynner Hollywood's Russian Pharoah | John Fraser A Scottish 60's Lad | Paul Scofield in Films | Divinely Decadent Helmut Griem |Midnight Brad Davis

I hope that you enjoyed visiting my site, if you're a new fan of Joan's work I hope you learned a little more about her, and if you came to this page with a negative idea about who Crawford is (decades of Mommie Dearest as a camp classic has done incredible damage to Joan's reputation) then I hope this website helped to give you a different perspective about Joan's legacy. If you have comments about my page or questions about Joan I'd love to hear from you, send mail by clicking here.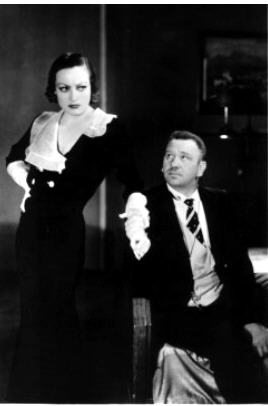 Sign My Guestbook
View My Guestbook