Joan Crawford's Films
All of the following reviews were written by me except where noted.

---
Tramp, Tramp, Tramp (1926)
The earliest Crawford film available - she has the "girlfriend" role opposite comedian Harry Langdon. A cute, silent comedy with a happy ending.

The Unknown (1927)
A fascinating silent horror film starring the great Lon Chaney. Joan plays a beautiful circus performer who is afraid of men who are constantly groping her. Lon pretends to have no arms and thus allays Joan's fears - but circumstances soon force Lon's pretend situation to become real. Some frightening and sickening moments in this film, one particularly gruesome scene - Lon's rival nearly torn in two by horses pulling in the opposite direction.

Twelve Miles Out (1927)
Joan costars with one of the silent screen's great romantic icons, John Gilbert. Gilbert is a smuggler in the prohibition era and Joan is his lovely kidnapped victim turned lover. A very dramatic story and seaside setting.

Across to Singapore (1928)
Joan costars with the adorable Ramon Novarro in this love story.

Our Dancing Daughters (1928)
Joan's breakthrough role which established her in the public's mind as THE representative of modern young American women. It's worth noting that Joan had her handprints and footprints put in cement at Graumin's Chinese Theater in Hollywood in 1928 - that's how big of an impact she made with this film.

Our Modern Maidens (1929)
The only film with Joan Crawford and then husband Douglas Fairbanks Jr. They had met earlier on and were married around the time this film came out. Crawford had come a long way - she was the biggest new female star in the land and married to the son of Hollywood's then king of the screen, Douglas Fairbanks.

Untamed (1929)
The first half of this film is really fun as Joan plays an off the street sluttish tramp - her performance is humorous, vivacious and for anyone who hasn't seen any early Crawford performances it's definitely educational, you see a totally different actress from Joan's post-Mildred Pierce work. Robert Montgomery is my least favorite of Joan's leading men so that's the only thing I don't like about the movie.

Montana Moon (1930)
Not the best Crawford film. It's a poorly made early talkie. I've seen it and can't remember a single thing about it which tells you something.

Our Blushing Brides (1930)
The early part of this movie has some really fun scenes of Joan and her roommates as single women sharing an apartment and getting along in the big city. It's interesting how contemporary these scenes feel. The second half of the film is a romance between Joan and ,again, Robert Montgomery.

Paid (1930)
One of Crawford's best - and a women in prison flick to boot! Joan gets sent to jail and when she gets out she methodically takes her revenge on the men who set her up. It's a world populated by crooked businessmen and their playboy sons, blackmailers and other tough characters. As far as I'm concerned this film begins the golden era of Crawford Cinema. Crawford was just the kind of actress that Depression era audiences could relate to - strong, determined, gritty, real and realistic.

Dance, Fools, Dance (1931)
Crawford's first onscreen pairing with Clark Gable - a whole different breed from the Gilbert and Valentino. In this film Gable is the villain, a threatening gangster. Joan and Gable are electric together.

The Laughing Sinners (1931)
Crawford and Gable together again and get this, Clark is a Salvation Army worker! Joan is the laughing sinner.

This Modern Age (1931)
Joan as a rich girl (and a blond rich girl at that!) for once in this glittery soap opera.

Possessed (1931)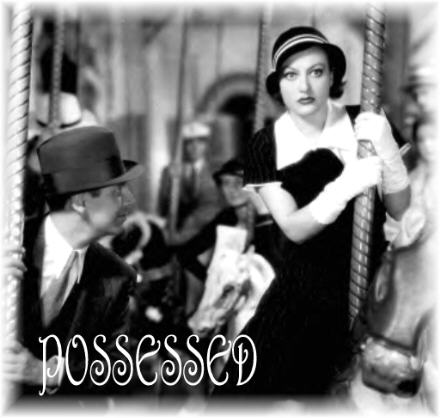 The classic Crawford flick, from poor girl to socialite with Gable drawing her into his high-class world. The best Gable/Crawford film until Strange Cargo (1939).

Letty Lynton (1932)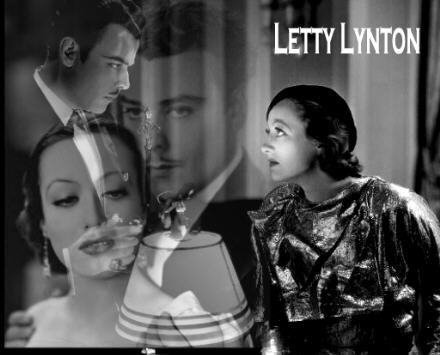 Nils Asther (seen with Joan in Our Modern Maidens) is the fatal male whose possessiveness drives Joan to murder. Robert Montgomery (yes, him again) is the good guy who falls for Joan.

Grand Hotel (1932)



The peak of 30's Hollywood. Amazingly Joan steals the movie right from under the noses of her far more experienced costars. Watching it today Garbo's performance seems incredibly dated and overdone whereas Crawford 's performance is as fresh as if it were filmed yesterday. John Barrymore is one of my favorite actors so I adore watching him onscreen with Crawford. Lionel Barrymore and Wallace Beery are also excellent (so is Lewis Stone in a small role). If you've never seen Joan Crawford act before rent this one first and you'll be hooked, fascinated and forever entranced by her. Grand Hotel is THE film of the 30's and in some ways a farewell to the good old days, the following year would see Hitler in power in Germany and with it the downward spiral towards Holocaust and WWII.

Rain (1932)
A flop at its time but one of Crawford's finest performances. Swanson did this part in the 20's and Hayworth would do it as a musical in the 40's but once you've seen Crawford's Sadie Thompson you can forget the rest.

Today We Live (1933)
Two glamorous stars (the mellow Gary Cooper) can't make this film fly. I haven't actually sat down and watched it because it moves along so slowly I can't get through the first fifteen minutes. I'll try soon and hopefully amend my review. Crawford is lovely in it though.

Dancing Lady (1933)
Crawford costars with Gable and husband #2 Franchot Tone. Fred Astaire, in a small role, dances with Crawford. This is an engrossing, fun, glamorous escapist flick.

Sadie McKee (1934)
Crawford in a flick custom made for her appeal, and she again stars with Tone. Good story and great acting by Joan.

Chained (1934)
The last romantic drama that Gable and Crawford would make for some time. I don't really care for their attempted screwball comedies together - their passion onscreen always seems best when it's dark, destructive and dramatic. This is a gorgeous film with some great (and funny) scenes.
They both just sparkle with star power.

Forsaking All Others (1934)
Gable/Crawford screwball comedy with (again) Robert Montgomery. Not one of my favorites.

No More Ladies (1935)
Another Lombard-esque flick with (yes, you guessed it) Robert Montgomery and Franchot Tone.

I Live My Life (1935)
One of my favorites (or is it just because we're finally rid of Robert Montgomery?) with spoiled, rich Joan chasing after a handsome archeologist. Joan's humorous/scary pre-wedding temper tantrum is quite entertaining.

The Gorgeous Hussy (1936)
Joan in period costume is just kind of strange. She costars with Robert Taylor, Melvyn Douglas, Franchot Tone and Lionel Barrymore.

Love on the Run (1936)
Joan and Gable and Tone star together in another screwball comedy.

The Last of Mrs. Cheney (1937)
The presence of William Powell makes this feel even more like a Lombard picture without Carole.

The Bride Wore Red (1937)



Joan's hairstyle is just gorgeous in this movie. This was her last movie with Franchot Tone and her other costar is about as unappealing as the above cited Mr. Montgomery - Robert Young.

Mannequin (1938)
Maybe I'm just spoiled with Gable but Spencer Tracy and Joan Crawford just don't mix well. Tracy's grumpy paternalism just doesn't work with Joan.

The Shining Hour (1938)
Uh oh, Robert Young again. But, Melvyn Douglas is also in this movie so that helps.

The Ice Follies of 1939 (1939)
Maybe it was Joan's poorly chosen costars that was turning her into box office poison at this point in her career- James Stewart, all-American son that he is, just is not the right actor to play opposite Joan Crawford. Stewart works fine opposite the fluffy Lana Turner in Ziegfield Girl (1941) but he's not a match for bad girl Joan.

The Women (1939)
The movie that saved Joan's career. Crystal Allen "crystallized" her queen of the bad girls screen persona. And with no men in the cast Joan was spared a wimpy costar.

Strange Cargo (1940)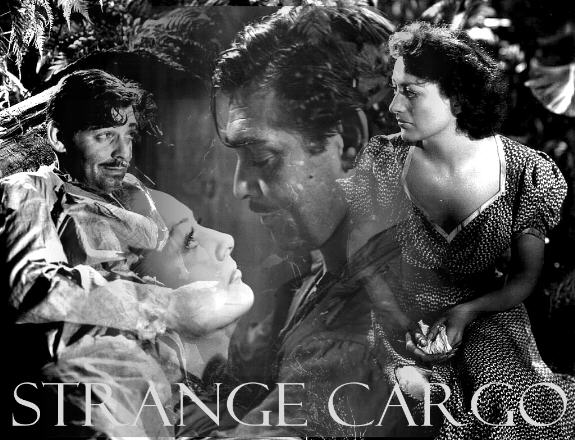 The best film that Crawford and Gable made together. A classic - one of the MUST-SEE Crawford films.

Susan and God (1940)
The only time Joan ever costarred with Frederic March. Joan seems to be imitating (mocking?) Norma Shearer in this comedy. A young Rita Hayworth is also in this film.

A Woman's Face (1941)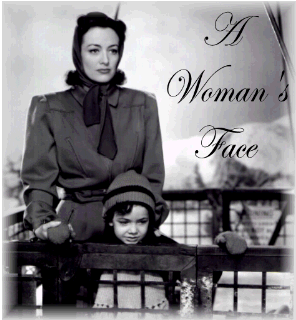 My favorite Crawford film and my favorite Crawford costar - Conrad Veidt! Move over Robert Young and Robert Montgomery -- Connie is here! Even if you don't share my fascination for the sinister, sexy, tall, striking, blue-eyed Mr. Veidt you can appreciate the plot and fine performances in this movie. The always reliable Melvyn Douglas is Joan's other costar in this outstanding film. Add this to your MUST SEE list.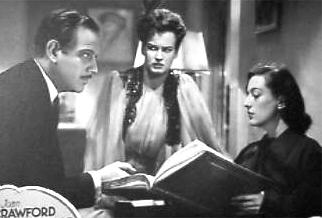 When Ladies Meet (1941)
Greer Garson manages to steal this movie away from Joan - quite an accomplishment.

They All Kissed the Bride (1941)
I have not seen this film yet. Carole Lombard was cast in it but when she died in a plane crash Joan stepped in. The funny and handsome Melvyn Douglas is once again Joan's costar.

Reunion in France (1942)
John Wayne costars with Joan in this patriotic wartime film. John and Joan have good chemistry together.

Above Suspicion (1943)
Again supporting the Allied war effort this film involves Joan and Fred MacMurray as Americans in Nazi Germany spying for British intelligence. My Connie (Conrad Veidt) has a supporting role as an Austrian who helps them out. MacMurray is a pleasant match with Crawford and Veidt is absolutely charming and devilishly witty.

Mildred Pierce (1945)
The second golden age of Crawford films begins here. It's the role that Crawford is most famous for and the performances of everyone in this movie are perfect. I am especially fond of the Zachary Scott - he manages to be cute and sleazy at the same time. Ann Blyth is exquisite as Veda and Eve Arden and and Jack Carson are both at their sharp-tongued best. One of the finest film noirs too. Don't miss out on this one. It's ultra-Crawford.

Humoresque (1946)
John Garfield is one of the finest actors that Crawford ever worked with - he's rough, tough, sexy and smart, a male equivalent of Miss Crawford. This is a tragic romance about two very f'd up people. Joan has never been more world weary. The ending is one of the most beautiful (and dark) moments in classic cinema. Another MUST SEE! Check out Garfield in "The Postman Always Rings Twice", his other film noir classic costarring Miss Lana Turner.

Possessed (1947)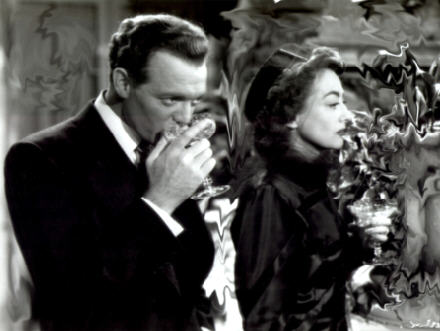 The Crawford golden era continues with this noir look at obsessive love and madness. Van Heflin is a tough talking cynic who gets involved with Crawford then leaves her - with disastrous results. Heflin's nononsense reactions to Joan's dramatics makes for great screen fireworks. If you want to see Helfin's best role see "The Strange Love of Martha Ivers", another noir flick which stars Barbara Stanwyck as the poisonous female.

Daisy Kenyon (1947)
Joan gets to share the screen with the handsome, talented Henry Fonda and Dana Andrews in this delightful romantic triangle. Fonda works well with Crawford because of his strong screen presence.

Flamingo Road (1949)
One of my favorites, any Joan fan has got to love this movie. Joan is reteamed with the adorably slimy Zachary Scott and David Brian is excellent as the sleazy politician Joan gests involved with. Brian will show up again in another good role opposite Crawford in her next film. Joan plays the girl from the wrong side of the tracks who comes into town, gets thrown into jail by the big, fat Southern sheriff and causes more trouble from there on out. Can I say MUST SEE one more time?

The Damned Don't Cry (1950)
Joan is excellent in this film, it's got a great setting and a good story. Joan looks fantastic too, in sunglasses, chase-me f-me pumps and of course her furs (even in the desert Joan has her furs!).
David Brian once again plays the sleazebag she gets mixed up with.

Harriet Craig (1950)
Excellent character study with Joan (who mirrors her Mommie Dearest image) as a neurotic, controlling housewife who cares more about her home and possessions, than her husband or friends. Remake of Craig's Wife (1936). Review by nickandrew@msn.com

Goodbye, My Fancy (1951)
Joan is a senator who returns to her old college and renews a romance with Robert Young. An OK movie.

This Woman is Dangerous (1952)
Crawford's final film for Warners is this strange melodrama with her miscast as a female gangster going blind, who falls in love with the doctor (Dennis Morgan) who restores her eye sight. Watchable, but not a great film. Crawford really hated this one. Review by nickandrew@msn.com

Sudden Fear (1952)
Another noir MUST SEE. The edgy Jack Palance plays a handsome, dangerous man who Joan is dumb enough to go for...and she realizes her mistake when Palance starts plotting with Gloria Grahame to do Joan in. Dramatic, suspenseful, glamorous - see it.

Torch Song (1953)
Crawford's first Technicolor movie was this B-musical from MGM (returning after a 10-year absence). She plays a cold, lonely Broadway star who finds true love with her blind pianist. Review by nickandrew@msn.com

Johnny Guitar (1954)
Joan's only western, a cult film because of Joan's feminist, gender-bending role.

Female on the Beach (1955)
The rugged Jeff Chandler is Joan's untrustworthy husband. Is Jeff out to kill Joan or is it all in her mind? Great for scenes of Joan on the beach in furs and heels! What a way to take a walk on a beach Joan!

Queen Bee (1955)
Joan as a vicious, frightening dominatrix who tears apart room decor with her riding crop and verbally destroys anyone within her path.

Autumn Leaves (1956)
Interesting and touching melodrama has Joan as a much older woman who finds love with a much younger man (Cliff Robertson), who she finds out is already married and has mental problems. Again, not a great film, but watchable. Review by nickandrew@msn.com

The Story of Esther Costello (1957)
Crawford always believed she should have received an Oscar nomination for her performance as a wealthy American who takes particular interest in a deaf mute Irish girl. Review by nickandrew@msn.com

The Best of Everything (1959)
Multi-layered story of three young women who want to find success and romance while residing in New York City. Not a bad melodrama for this era. Joan has a small part as the boss of the publishing house where the women work--she's a real bitch in this one and so good at it! Review by nickandrew@msn.com

Whatever Happened to Baby Jane (1963)
Yes, finally got around to watching this movie during the Halloween season 2001. I've recently gotten into watching Bette Davis movies so it made it more fun for me to see this one as a fan of both Bette and Joan. I love how Joan maintains her glamour even as a wheelchair bound victim! Love the long hair on Joan during the end of the film.

The Caretakers (1963)
So-so drama with Robert Stack as a mental hospital doctor who tries to help patient Polly Bergan. Crawford has a supporting role as Lucretia, the head nurse who has old-fashioned ideas on how to handle mental patients. Flimsy script destructs potential idea. Review by nickandrew@msn.com

Strait-Jacket (1964)
Horrible B-movie has Joan as an ax-murderess released from prison after twenty years. When she returns home to her daughter (Diane Baker), bodies begin to surface and everyone blames Joan. Total waste of everyone's time and money. Review by nickandrew@msn.com

I Saw What You Did! (1965)
Slightly better than Strait-Jacket, but still a B-picture. Two teenagers prank call people and say the film's title, but they accidentally call John Ireland who just murdered his wife. Joan appears in a small role as John's next door neighbor and mistress. Not a bad performance here by Crawford. Review by nickandrew@msn.com

The Karate Killers (1967)
Made for TV movie for European audiences is actually an episode of The Man from U.N.C.L.E. Joan only has a brief, but excellent cameo early on as a widow of a scientist, who discovered a formula that turns seawater into gold. Review by nickandrew@msn.com

Berserk (1967)
A disappointing performance from Joan. As the most experienced member of the cast I expected more from her, but she gives the flattest performance of the entire cast. Judy Geeson is delightful as always as the good blonde, Diana Dors is a hoot as the sluttish bad blond and a young Robert Hardy seems to be having a ball playing a Scotland Yard investigator. The sets all look like they're made out of cardboard (including Joan's lovely circus trailer which sports an incredibly tacky painting of a clown inside of it!) and the stock circus footage gets old pretty fast. However, Joan still has a great figure at age 63!!

Trog (1970)
Joan's last film is one of her worst. It's more of a low-budget sci-fi film than a horror movie. She plays an anthropologist who discovers the missing link in mankind: a troglodyte (half man-half ape). Horrible story with weak attempts from the whole cast, except Joan who gives it a go, but doesn't save this trash. Review by nickandrew@msn.com

---