Anita Pallenberg: Stones Goddess
*************This site is now closed. Please visit my NEW Anita Pallenberg Word Press site!!!***********************
---
When I created this webpage in tribute to the beautiful, mysterious, dangerous, powerful personality/actress Anita Pallenberg there was a reason - I could not find a website dedicated to her. That was in January 2000. Since that time several web sites in Anita's honor have popped up on the web; they are very well done sites which I link to in my links section below. I'm so pleased to see how Anita's presence on the web has grown in just the last few years. As a rock 'n roll icon Anita is still gaining fans of all ages. I've created an Anita Tumblr Blog. I see so many amazing photos of Anita pop up on Tumblr all the time, when I see them, I'll reblog them on my humble little Tumblr page.


Anita Pallenberg has been one of my rock 'n roll icons since I became a Rolling Stones fan. I discovered the Rolling Stones and their myth when I rented the movie Performance in the summer of 1993. I was utterly blown away by the imagery and psychology of that utterly hip and profoundly revolutionary movie. It led me to a fascination with the music and the lifestyles of the Rolling Stones. Anita Pallenberg was my ideal image of rock 'n roll when I saw her as Pherber in "Performance" - messy blond hair, witchy and bohemian, incredible charisma, daring to break all of society's codes.
When I read up on the Stones I was interested to read that she was considered a sixth member of the Stones because of her influence on both Brian Jones and Keith Richards and her relationship with the band. Anita was as much a part of the legend of the Stones as the band members themselves. Since Keith Richards is my favorite Stone I was even more intrigued by Anita since she was Keith's girlfriend for many years and they had two children together . I soon found out through my research that I had seen Anita long before I became a Stones fanatic. She played the Black Queen in "Barbarella" which I had first seen when I was in my teens watching TV one afternoon. The scene that I remembered most from the movie was when Jane Fonda's character Barbarella first encounters the Black Queen and is baffled by the Black Queen's advances as she calls her "my pretty pretty." Definitely an memorable entrance!

Through a wonderful Anita admirer in Italy (thank you wherever you are now!) I acquired copies of Anita's rare films "Dillinger is Dead" and "A Degree of Murder" (for which Brian Jones composed the soundtrack). I still need to get her film "Michael Kohlhass" on video (if anyone knows where I can find these PLEASE email me!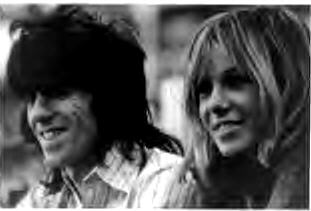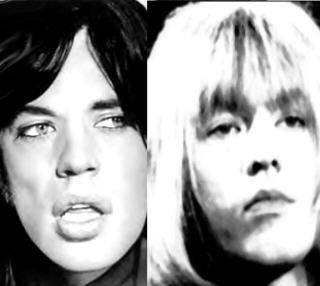 ---

Duran Duran, whose name was taken from the mad scientist character in "Barbarella", used the movie clip of Anita as the Black Queen in their video for their 1985 hit "Wild Boys". And in their 1998 dance hit "Electric Barbarella" Duran Duran has a line in the song where Simon le Bon sings "pretty pretty Barbarella" in tribute to Anita's line from the movie "Barbarella".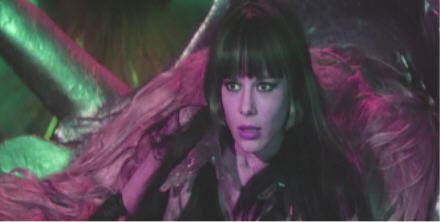 Below are my reviews of Anita's films and some weblinks related to Anita Pallenberg. I would love to hear from other fans!!! And I would love to trade for any of the rare video that is out there on this phenomenal woman!!
---
My Reviews of Anita Pallenberg's Films
A Degree of Murder
This movie is timeless. When I first saw it several years ago I was struck at how modern the filmwork and the acting in it seemed. The atmosphere reminded me of Crime and Punishment meets Trainspotting. The leading man is a handsome German actor whose haircut doesn't scream out "1967!!!!". Anita is a femme fatale in this movie almost by accident, and her reactions to the murder and coverup that follow is almost nonchalant, as if she really can't help but lead men into danger. She looks utterly iconic with her blond bob, 60's sweaters and boots. Anita seems very adult and confident for her 19 years, I can't imagine one of today's "actresses" of that same age coming across with the same air of maturity and awareness. I didn't really notice the Brian Jones which means that it's good - it goes with the movie instead of overwhelming it.
Degree of Murder Gallery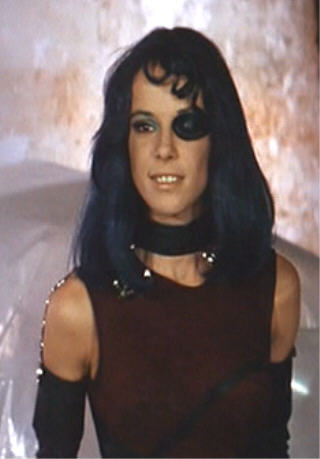 Barbarella [DVD](1968) DVD
One of my favorite films from the 1960's. It's so whimsical, gorgeous to look at, sexy, fun, funny, outrageous, campy, crazy and what a cast! Jane Fonda, Anita, David Hemmings, Milo O'Shea! This movie lives on as eternal sensory overload - no wonder one of the best bands of the 1980s, Duran Duran, was inspired by it so much so that they took their name from Milo O'Shea's evil scientist. Barbarella fans should definitely check out the Duran Duran video ARENA which is a concert video that incorporates scenes and dialogue from Barbarella and an appearance by Milo O'Shea as the still cantankerous Dr. Duran. Anita is fantasticness in this movie with her black wig, incredible costumes and her wicked role as the lustful Black Queen.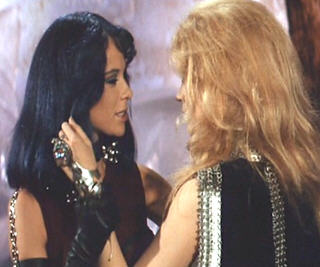 Barbarella Gallery and Stills of Anita from Barbarella

Michael Kohlhas der Rebell
I desperately want to see this movie! David Warner, one of my favorite actors stars in it and Anita costars. I think it was filmed in Morocco. If anyone knows where I can find this film please email me or sign my guestbook so I can get in touch with you.

Candy(1968) VHS
This VERY 60's exploitation flick is finally available on video and DVD. After many years of searching for this film I was glad to finally see it. It's really bad (if you think Barbarella is a campy delight Candy is all that times ten). Ewa Aulin is just as precious and lovely to look at as I thought she would be - having seen pictures of her for years. Anita has a minor role that's so hard to explain because the plot of this film is so utterly bizarre that I won't even begin to try. Suffice it to say though Anita is at her usual wicked best and wears a sexy nurse's outfit. She has on a long blond wig and her sequence in the film includes chasing Candy around a psychadelic hospital with a needle in her hand. The first few lines she has sounds like they are dubbed by someone else but after her first scene the voice sounds like it is Anita's. She looks stunning, has on more makeup than I've seen her wear in her other movies, and adds that certain Anita something to this way far-out flick. Definitely worth buying to see if you are an Anita fan. The DVD sounds really cool too.
Candy (1968) DVD.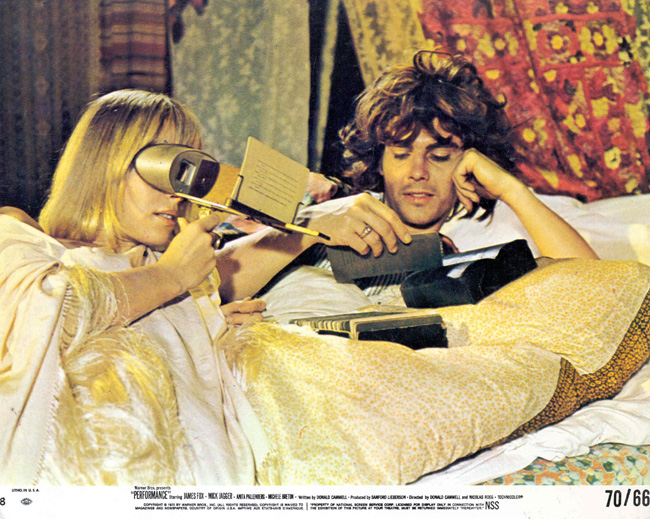 Performance(1970) VHS
The film that turned me into a Stones fan. There's really no way to explain this movie if you haven't seen it. You just have to watch it for yourself. It's a part of Rolling Stones history. It's a classic. There's a documentary about director Donald Cammell called "The Ultimate Performance" that is very interesting and adds a lot to the understanding of the film. Sometimes co-director Nicolas Roeg gets full credit for "Performance" when in fact it was Donald Cammell's vision. "The Ultimate Performance" has some interviews with Mick Jagger and James Fox (still a very handsome man, gracious, funny and full of good stories about how the experience of filming "Performance" changed his life.)
Performance Gallery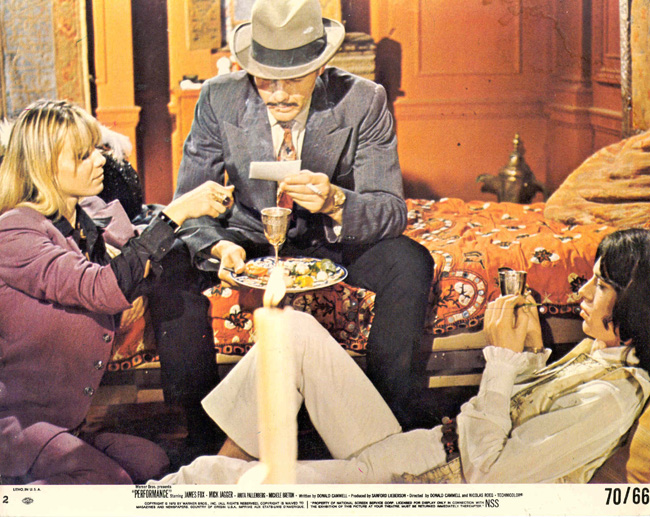 Dillinger is Dead
Strange movie. Kind of a stupid movie actually. It's Italian, bizarre, nonsensical, and rather dull. Anita has hardly anything to do. She lounges around in bed for a few scenes and then we see a flashback to her on a merry-go-round which is cute and that's about it!


---
Anita Pallenberg Web Links
Let me know what you think about my page. Send mail by clicking here.
Thank you for visiting my homepage!!
This page was created January 2000 and was last updated on December 24, 2013. Please visit my other webpages.