***********************This page is now closed. Please visit my new Douglas Fairbanks Jr. Tribute WordPress Page!**********************
---
A Tribute to Douglas Fairbanks Jr.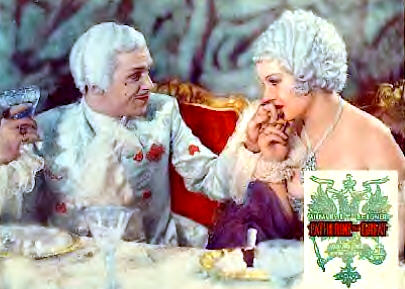 "You're the popular tourist conception
of the arrogant Russian prince."
from Scarlet Dawn
I thought that there should be a website dedicated to this talented and debonair actor from the classic days of Hollywood. As the son of Douglas Fairbanks, (Douglas Fairbanks of silent movie fame) Douglas has been overshadowed by his father's legend but he is a movie star in his own right. The senior Fairbanks is of course more famous than his son, but my favorite actor has always been Douglas Fairbanks Jr.
I first saw him in the film Catherine the Great in the late 1980's on late night public television and was impressed by his riveting portrayal of this complex historical figure and since then I've tried to see all of his movies. I think that he is a very talented actor who was equally at home acting in screwball comedies, gangster films and swashbuckling adventures .

Fairbanks epitomizes the essence of Hollywood in its heyday of the 1930's. He was dashing, handsome, witty, charming and he was also romantically linked with some of the most glamorous women in Hollywood including Marlene Dietrich and Tallulah Bankhead. He was married to the biggest star of them all - Joan Crawford. Onscreen he romanced Joan Crawford, Rita Hayworth, Ginger Rogers, Katherine Hepburn, Madeleine Carroll, Bette Davis, Irene Dunne, Danielle Darrieux, Nancy Carroll, Betty Grable, and Maureen O'Hara.
My favorite Fairbanks Jr. films are: A Woman of Affairs (1928), Scarlet Dawn (1932), Captured (1933), Success at Any Price (1934), Catherine the Great (1934), Prisoner of Zenda (1937) and Rage of Paris (1938).
---
Fairbanks on TV
Turner Classic Movies plays rare Fairbanks films that aren't available to buy on video

TV Now - Douglas Fairbanks Jr. - Follow this link to find out what Douglas Fairbanks Jr. flicks are airing on cable this month
---
Fairbanks Jr. on DVD and blu-ray!
Many of Douglas Fairbanks Jr's movies are now available on DVD and some on blu-ray! Shop at Movies Unlimited for the best selection of Douglas Fairbanks Films! Douglas Fairbanks Jr. Movies

---
Fairbanks on the Web
Follow my Douglas Fairbanks Jr. Tumblr Blog


Follow my Douglas Fairbanks Jr. Pinterest Board

Reviews of Douglas Fairbanks Jr.'s films - my personal look at the Douglas Fairbanks Jr. films that I have seen so far. To see Mr. Fairbanks' full filmography go to the Internet Movie Database. .

My Fairbanks Photo Galleries -- ***NEW!! Douglas Fairbanks Jr. Gallery | ***NEW!! Woman of Affairs Photo Still Gallery | Rise of Catherine The Great Photo Still Gallery | Scarlet Dawn Photo Still Gallery | Prisoner of Zenda Gallery | Young in Heart Gallery | Fairbanks with Joan Crawford | Fairbanks in Catherine the Great |

An Encounter with Fairbanks - a piece written by Susan M. Gordon, thanks Susan!

Fairbanks interview - about Fairbanks' film career.

Fairbanks Buster Keaton Interview is an interview with Doug about the famous silent film star.

BBC News Obituary

Hollywood Forever's official website - Services were held at 1:00pm, Wednesday, May 24, 2000, at Hollywood Forever Cemetery, 6000 Santa Monica Boulevard, Los Angeles, CA 90038.

Seeing Stars - This site has info about Hollywood Forever and who is buried there

Ebay - Ebay usually has a dozen or so various Fairbanks items (cigarette cards, autographed photos, etc.) for auction.

Movie Forum: Douglas Fairbanks Jr. - this site has information, a chat room and links to other Doug sites.

Internet Movie Database - contains Doug Fairbanks Jr.'s filmography and brief biographical details



Silents Are Golden - has information about Fairbanks silent films

Mary Pickford & Douglas Fairbanks' Hollywood - a good site about Doug Jr's famous father

Some great websites dedicated to other talented actors:
Dirk Bogarde| Conrad Veidt| | Ian McKellen| Rudolph Valentino| Brian Cox |
---
The Salad Days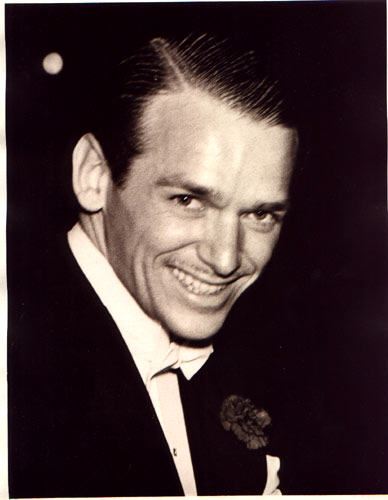 Douglas Fairbanks Jr. wrote several autobiographies about his childhood (growing up as the son of one of the world's most famous movie stars), his acting career, his marriage to Joan Crawford, and the important real life role he played during W.W.II. The book titles are The Salad Days and A Hell of a War. If you're searching to purchase these books or any other books related to Doug Jr. a good place to look on the web would be BookFinder.

Hopefully Douglas had a chance to see my web tribute to him, I mentioned to him in a letter I sent him at the end of 1998. I received an autographed photo from him in return.
Thank you for visiting my homepage!!
This page was created May 1998
and was last updated on April 10, 2014.

Please visit my other websites dedicated to some of my other favorite film stars
Contact me at my AOL address, harlowgold.