---
My Reviews of Novak's films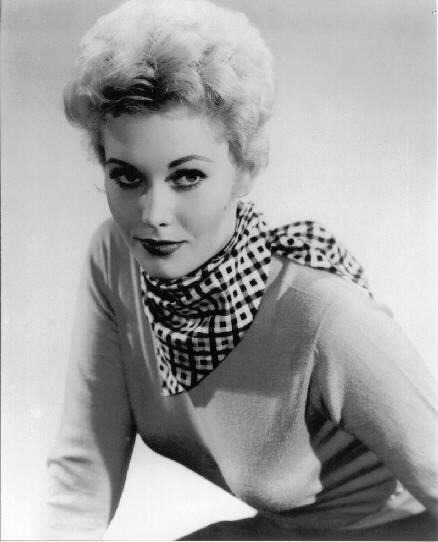 PUSHOVER (1954) - This movie contains Kim's first big role in any film. She is excellent and subtly undermines the role she plays because she is an unusual femme fatale in this film noir. Kim's film persona as the "reluctant goddess" begins with this portrayal.

THE MAN WITH THE GOLDEN ARM (1955) - Frank Sinatra is one of my favorite actors from the 1950's and Kim is my favorite actress from the same decade so I absolutely adore them as a screen pairing! Kim is warm, caring, soft, and sweet as the cocktail waitres who comforts and helps cure Sinatra's Frank Machine, a heroine junkie. They have fabulous chemistry and both of them do some of the best acting of their careers in this movie.

PICNIC (1956) - A 1950's classic with Novak as the melancholy town beauty who is "tired of just being pretty" and who rebels at the end of the movie to run off with the town outcast played by William Holden. Kim is most effective in this role because you can see that underneath her resplendent beauty is a quiet, searching soul full of heartache and longing.

THE EDDY DUCHIN STORY (1956) - Kim plays the tragedy in this movie as the fated wife of pianist Eddy Duchin, played by Tyrone Power. This movie was a big success and it helped to solidify Kim's movie star status. It's a soap opera but done in the best Hollywood style.

JEANNE EAGELS (1957) - I just recently saw this film (finally!) and it's one of Kim's finest performances. Her portrayal of the ups and downs of 1920's stage star Jeanne Engels life is exquisite. Kim has also never looked quite so lovely and ethereal - she has the look of a 20's icon. The darkest moments of the film are Kim's best.

PAL JOEY (1957) - Sinatra and Novak light up the screen again in this delightful romp. Frank is the lady-killer and all round heel Joey Evans. Kim is the frosty chorus girl who gives Joey the cold shoulder...for awhile anyway. The sexual tension between these two is electric. A really fun movie.

VERTIGO (1958) - The Hitchcock classic with Novak in her definitive screen role as the mysterious Madeline, the epitome of the Hitchcock heroine, and as the shopgirl who created the illusion. A brilliant movie and Kim shines even though she got zero support from Alfred Hitchcock. Novak seems to have her own agenda as Madeline and she gives a fascinating performance that can be read on many different levels.

BELL, BOOK, AND CANDLE (1958) - Kim is paired once again with James Stewart in this charming romance about a witch who loses her powers when she casts a spell on and falls in love with Stewart's character. Stewart once again has good screen chemistry with Novak.

MIDDLE OF THE NIGHT (1959) - Kim fought hard for this role (Marilyn Monroe wanted to play it) and she got it. At this point in her career she had learned a lot about acting and was more secure in her thespian skills. Her acting in this movie is almost "Method" in its intensity. She plays a divorced young, heartbroken, repressed secretary who falls in love with her older boss played by the talented Fredric March. It's a poignant, modern love story and one of Kim's finest performances.

STRANGERS WHEN WE MEET (1960) - The last of Kim Novak's classic film period and the last of her 1950's heroines. This is one of my favorite of her films. I have read that Kirk Douglas and Kim Novak absolutely detested one another while filming his movie. If so, then maybe it adds to the movie because Novak's repressed housewife acts as if she's walking a tightrope thoughout her affair with architect Douglas. The tension makes the movie better than it might have been otherwise. It's an interesting story about 1950's suburban America and the alienation and loneliness of the people who live there.

THE NOTORIOUS LANDLADY (1961) - I've only seen this movie once but I really enjoyed it - it's a well-paced comedy that brings out Kim's talent for the comedic for the first time. She and Jack Lemmon make a fun screen pairing.


BOYS' NIGHT OUT (1962) - The swinging Sixties are here and Kim plays a psychologist who tricks three bachelors (including some of my favorite actors, James Garner and Tony Randall) into thinking she's a girl for hire. She's smarter than the lot of them and this is a fun comedy.

OF HUMAN BONDAGE (1964) - While I think both Kim Novak and Laurence Harvey were miscast in this film, it was an interesting acting challenge for Kim Novak. I read that Novak and Harvey did not get along and this may be why they seem so uneasy together onscreen. I also had a hard time finding Laurence Harvey believable as a character who would pine over Mildred when I'm more used to Harvey playing cold-hearted, womanizing heels in movies like Darling and Butterfield 8.

KISS ME STUPID (1964) - Billy Wilder is one of my favorite directors and although this movie has its detractors, I think it's one of his liveliest, funniest films. True enough, there are some demeaning and male chauvinist aspects to the movie but I think it's those attitudes that Wilder is criticizing by displaying them so blatantly. Novak plays Polly, a hooker that musician Orville Spooner (played by Ray Walston) hires to pretend to be his wife while Rat Packer Dean Martin is in town. Spooner thinks that if he lets Dino sleep with his "wife" that he will buy Spooner's song. It all doesn't turn out as planned because Spooner actualy begins to care about Polly as a human being and puts a stop to his own greedy plan. It's a very sharp, entertaining movie and Kim plays the dumb blonde role with empathy, humor and finesse.

THE AMOROUS ADVENTURES OF MOLL FLANDERS (1965) - Moll Flanders was attempting to be a female version of Tom Jones. Not one of my favorite Novak movies, however, I seem to be in the minority on this one because many of Novak's fans like this film and Kim's performance in it. I'll have to watch it again soon and see if a second viewing might change my opinion of it.

THE LEGEND OF LYLAH CLARE (1968) - Now THIS is fun trash! Lylah Clarie is along the lines of those tacky Sixties attempts to recreate 1930's Hollywood (Inside Daisy Clover, The Carpetbaggers) and it's a camp delight. This movie is so bad that it's good. Kim plays a rising starlet who falls in love with her Svengali, a director who helps her career because she resembles a German silent star, Lylah Clare, whom he was in love with years before. Kim becomes possessed (or is it just hallucinations?) by the spirit of Lylah Clare and starts throwing tantrums and speaking in a dubbed German accent!! A true guilty pleasure movie.

THE GREAT BANK ROBBERY (1969) - A pretty poor film, Kim gets hardly any dialogue and although she looks gorgeous in the film her talent as a comedienne is wasted.

JUST A GIGOLO (1977) - Another really bad movie and almost as much fun as Lylah Clare. This movie seems to have an icon from every decade in it: 1930's film icon Marlene Dietrich as an aging cabaret singer, 1960's sex symbol David Hemmings as a right-wing crazy, 1950's star Kim Novak as a rich widow, and the 1970's glam rocker David Bowie as the movie's hero. The film is set in Weimar Germany. No one seems to know what is going on and the acting by all involved is for the most part atrocious. Kim looks great though!

THE MIRROR CRACK'D (1980) - Kim Novak and Elizabeth Taylor get to have some cat fights in this typical murder mystery as two aging movie stars. It's fun to see these two movie goddesses camp it up!!